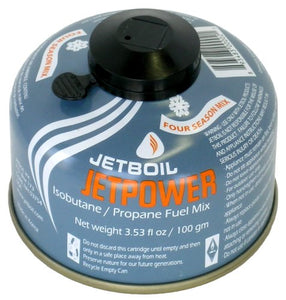 Jetboil Jetpower 4-Season Fuel Blend, 100 Gram
Regular price $0.00 $12.01 Sale
Brand: Jetboil
Color: None
Features:
High-performance propane/isobutane four-season blend
Propane provides higher vapor pressure to the fuel for better performance in cold weather.
Iso-butane provides more constant pressure as the fuel level gets low
Jetpower microcanisters stow conveniently within the 1 liter cooking cup and the 1.5 liter pot.
This item is not for sale in Catalina Island
Hazardous Material Type: ORM-D Class 2
Legal Disclaimer: Hazmat Items can not be returned buy law! By law this item can only be shipped by ground, and can not be shipped By United States Postal Service. We cannot ship fuel to Alaska or Hawaii by FFA federal law.
Publisher: JETBOIL
Details: The JetPower Fuel 110 Canister is the replacement fuel canister for the Jetboil Personal Cooking System, and is compatible with other canister stoves as well. The JetPower Fuel 110 powers the Jetboil with high-performance propane/isobutene fuel, and boils 12 liters of water. It stows neatly in the Jetboil cooking cup when you're on the go.
UPC: 893483000021
EAN: 0893483000021