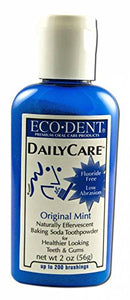 Eco-Dent Daily Care Baking Powder Toothpowder, Original Mint, 2 oz (56 g)
Regular price $0.00 $7.64 Sale
Brand: Eco-Dent
Features:
Airline Safe
Tastes great. Recommended by dentists
Economical- up to 200 brushing per bottle
Hardens teeth without fluoride. Less abrasive than toothpaste
Fresh, clean teeth. 100% cruelty- free. No dyes or sweeteners. All natural ingredients.
Legal Disclaimer: Information about this product is provided for informational purposes and is not meant to substitute for the advice provided by your own physician or other medical professional. You should not use the information contained herein for diagnosing or treating a health problem or disease, or prescribing any medication. You should read carefully all product packaging. If you have or suspect that you have a medical problem, promptly contact your health care provider. Information and statements regarding dietary supplements have not been evaluated by the Food and Drug Administration and are not intended to diagnose, treat, cure, or prevent any disease. All discounts are taken from suggested retail prices.
Publisher: Eco Dent
Release Date: 2007-03-19
Details: Premium oral care products. Naturally effervescent for healthier teeth & gums. Up to 200 brushings. Hardens teeth without fluoride! Better than pastes! Natural Effervescence makes it better! Better, fresher cleaning of teeth and gums. Less plaque. Lower abrasivity. Helps harden enamel without fluoride! Recommended by dentists. 100% natural ingredients. 100% cruelty-free. No dyes or sweeteners.
UPC: 784179374574
EAN: 0000000036641