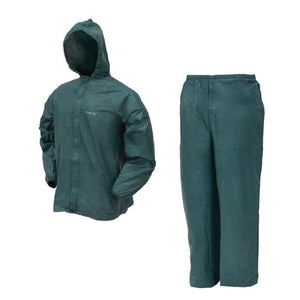 Frogg Toggs UL12104-09SM Ultra Lite Rain Suit, Green, Small
Regular price $24.80 $17.87 Sale
Brand: Frogg Toggs
Color: Forest green
Features:
Frogg Togg Rain Suit Green-Sm
Driducks Basic Rain Suit
Legal Disclaimer: This product contains chemicals known to the State of California to cause cancer and birth defects or other reproductive harm.
Publisher: Frogg Toggs
Details: DriDucks suits are constructed from an ultra-lite waterproof, breathable, nonwoven polypropylene fabric. The patented bi-laminate technology with "welded" waterproof seams and unmatched sweat-free breathability is a great value in affordable rain wear. The compression packability of this suit allows it to pack down to "storage pocket" size, and is perfect for backpacks, stadium seats or golf bags. Wt: 10. 4 oz.
UPC: 647484040285
EAN: 7258006902061