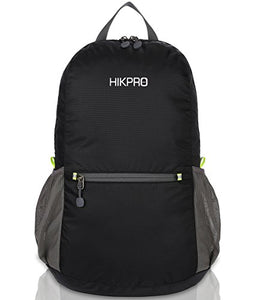 HIKPRO Unisex Ultralight Handy Packable Backpack, Black, 6.5 Oz
Regular price $0.00 $14.99 Sale
Brand: HIKPRO
Color: black
Features:
DURABLE. Made with High Quality Water and Tear Resistant Nylon material.
Legal Disclaimer: Dimensions: Unfold size 18 x 12 x5.5 inches (H x W x D), Compact Size: inches (H x W x D) . Capacity: 20 liters. Weight: 6.5 ounces. *This backpack is Water Resistant,but not waterproof.
Publisher: HIKPRO
Details:
Never Pay Overweight Baggage Fee Again
HIKPRO Let You Have Lighter Baggage and Bigger Carry Capacity.
IT'S SMALL TILL YOU OPEN IT
Easy to folds into small pocket. You would LOVE you can throw it in your suitcase and have an extra bag without it taking up space
LIGHT WEIGHT (6.5 Oz) and ROOMY(20 Liter)
Perfect for day trips, vacation, travel, day hikes, school, camping and shopping
DURABLE
Made with High Quality Water and Tear Resistant Nylon material. Most Duarable Abrasion Resistant SBS Metal Zipper Avaliable.
Reinforced more than 14 places with Bartack Process.
COMFORTABLE AND EASY TO CARRY
20+ Years Experience makes the Most Comfortable Shoulder Straps. Easy to Adjust the length and lock firmly. The SBS Two-way zipper go Smoothly
KEEP THINGS ORGANIZED
Three zippered compartments. Main pocket is Large enough to carry what you need. Outer smaller pocket great for quick access.
Inner pocket which doubles as the storage pouch is perfect place for valuables. Two large side mesh pockets for water bottles.
Our Guarantee To You
If within 30 days you're not 100% happy with your purchase of HIKPRO packable backpack, let us know and we'll refund your entire purchase price...no questions asked!
Important... Read This
We Apologize If We're Sold Out. Because Of The Extremely High Demand.
Order it Now before it's too late!
Click the Yellow "Add to Cart" Button at the Top of This Page to Enjoy Your Happier Trip Now!
UPC: 799632954552
EAN: 0799632954552