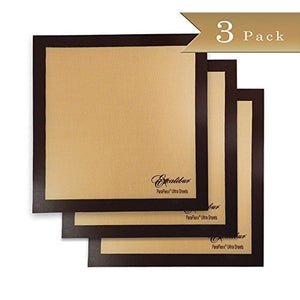 Set of 3 - 14 x 14 Inches - Excalibur ParaFlexx Ultra Silicone Re-usable Non-stick Dehydrator Sheets
Regular price $39.95 $31.70 Sale
Brand: Excalibur
Color: Brown
Features:
Set of 3 Excalibur Dehydrator Easy to clean Sheets - Each measures 14 x 14 inches square
Sheet is Non-stick and Re-usable - Silicone ParaFlexx Ultra dehydrator Silicone Sheets
Fits Excalibur 2500, 2900 & 3900 Series Dehydrators
Ideal Gift for Home Bakers - Perfect for making roll-ups, cookies, crackers, fruit leather sheet, etc.
Risk Free Transaction - with Amazon A-Z Guarantee a full refund will be given if wont like our products.
Publisher: Excalibur
Details: BPA-FREE. Super flexible non-stick dehydrator roll sheet square for fruit leathers, rollups, taffies, flax crackers, and much more... Easy to clean and reusable for years. Don't be fooled by the Fakes! There are people selling generic versions of our sheets that are not of the highest quality and will not last as long as our Trademarked ParaFlexx sheets.
UPC: 751354098761
EAN: 4818016974842