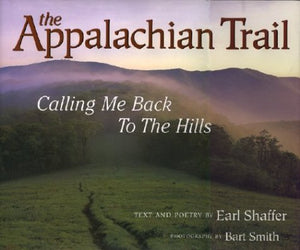 The Appalachian Trail: Calling Me Back to the Hills (Official Guides to the Appalachian Trail)
Regular price $0.00 $43.97 Sale
Author: Earl V. Shaffer
Brand: Brand: Westcliffe Publishers
Features:
Used Book in Good Condition
ISBN: 156579382X
Number Of Pages: 128
Publisher: Westcliffe Pub
Details: In 1948, young war veteran Earl Shaffer did what many people said couldn't be done: He trekked the entire length of the Appalachian Trail from Georgia to Main in one sting- walking in to the history books as the trail's first solo thru-hider. And in 1998, on the 50th anniversary of that hike, the 79-year-old Shaffer did it again. Now a legend, Shaffer recalls his anniversary trip and pays homage to the Appalachian Trail through his own prose and poetry, enhanced by Bart Smith's stunning photographs. From its southern terminus near the sparkling Amicalola Falls in Georgia to the magnificent Mount Katahdin in Main more than 2,000 miles to the north, join Shaffer and Smith on their amazing journeys along the Appalachian Trail.
EAN: 9781565793828